According to market researcher IBISWorld, conferences
and trade shows are a $13.8 billion industry, and growing.
There are so many conferences to choose from, especially
for companies or affiliates who are specifically targeting the financial
industry. Since conferences
are not cheap, you want to make sure to attend the event that is the most aligned
with your business and personal goals. When deciding which conference to
attend, it's important to not only keep your budget in mind, but also consider
the keynote speakers and other attendees.
Here is a list of the conferences which are the most relevant for both financial institutions and publishers in 2019. We describe each one in detail to help you identify the one(s) most relevant for you:
Where: Toronto
When: Feb 26th – 27th
Who Should Attend:
This conference is targeted at insurance and if your aim is to better understand the insurance industry and meet different insurance companies then this might be the conference for you.  It's targeted at the below specific roles:
Senior leaders with responsibility for business
transformation.
Senior line managers responsible for delivering
business case benefits from technology implementations.
Technology professionals evaluating analytic, business
intelligence, or cognitive computing technologies.
Anyone in risk management or finance who needs to
ensure IT strategies meets = ORSA requirements.
Business, technology or actuarial analysts in need of
techniques and tools to take a holistic view of technology's impact on new
products and services.
Who will attend:
Keynote speakers are a variety of industry thought leaders, such as:
• Jonathan Spinner – AVP, Claims Transformation & Strategy at Aviva Canada
• Steve Livingstone – President & CEO at Aha insurance
• Peter Primdahl – Emerging Business Models at The Co-operators
Insurance companies such as CAA and  Unica are exhibiting, as are several digital agencies.
Where: Las Vegas
When: April 15th – 17th
Who Should Attend:
The Financial Brand Forum is the fastest growing and most prestigious annual conference in banking. This conference is aimed at marketing, advertising and branding leaders and other senior-level retail [executives in the banking industry.
If you are looking to learn from experts
from different financial institutions this conference is for you. The three day
conference is jam-packed with breakout sessions and has a line-up of
world-class speakers. 
Who will attend:
Representatives from banks and credit unions of all sizes, representing over 20 different countries around the world.  The Financial Brand has welcomed many of the biggest, most prestigious and well respected banks in the world to the Forum, including Wells Fargo, BBVA, RBC, Scotiabank, BMO, US Bank, PNC, CIBC, Capital One, TD Bank +.
Where: Toronto
When: June 10th – 11th
Who Should Attend:
This is an excellent conference, with a niche focus highly relevant for digitally focused financial services marketers. Share Results has attended this conference over the past few years and most recently CEO Nicky Senyard participated on a panel with CIBC'S Digital Marketing and Operations Director, Yuli Shumsky to discuss "Developing an Omni-channel Strategy for Your Financial Brand".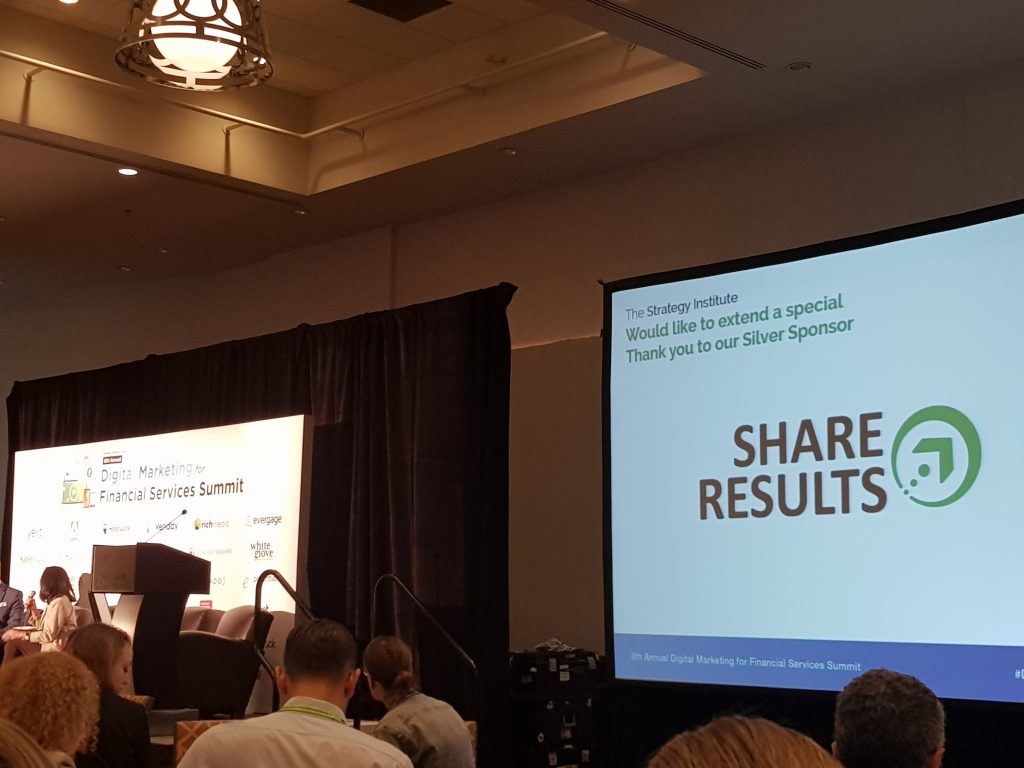 Who will attend:
Expect to see thought leaders,
experts and professionals from across North America at this unique event,
including but not limited to;
Financial Institutions (Banking, Credit Union, Insurance, Mutual Fund,
Loan, Mortgage )
Agencies (Marketing, Media, Advertising, Communications, PR and more)
Consultants, Vendors and Solution Providers (Communications, Strategy, SEO, Automation, Social
Media & CRM, Analytics, Software and more)
This conference is particularly interesting for both financial institutions and publishers. In fact last year attendees, speakers and exhibitors included publishers such as RateSupermarket.ca, banks such as HSBC and EQBank as well as insurance and investment institutions such as Co-operators.
Where: New York
When: August 11th – 13th
Who Should Attend:
Affiliate Summit run several conferences every year and Share Results recently attended the Las Vegas summit. One of the many highlights of the conference wasthe Finance Meet-up, which was a dedicated time and place for those in the finance industry to network. Though not many financial institutions were present, it was a good conference to attend for people looking to meet US publishers, from financial bloggers to coupon sites, and comparison sites to lifestyle bloggers.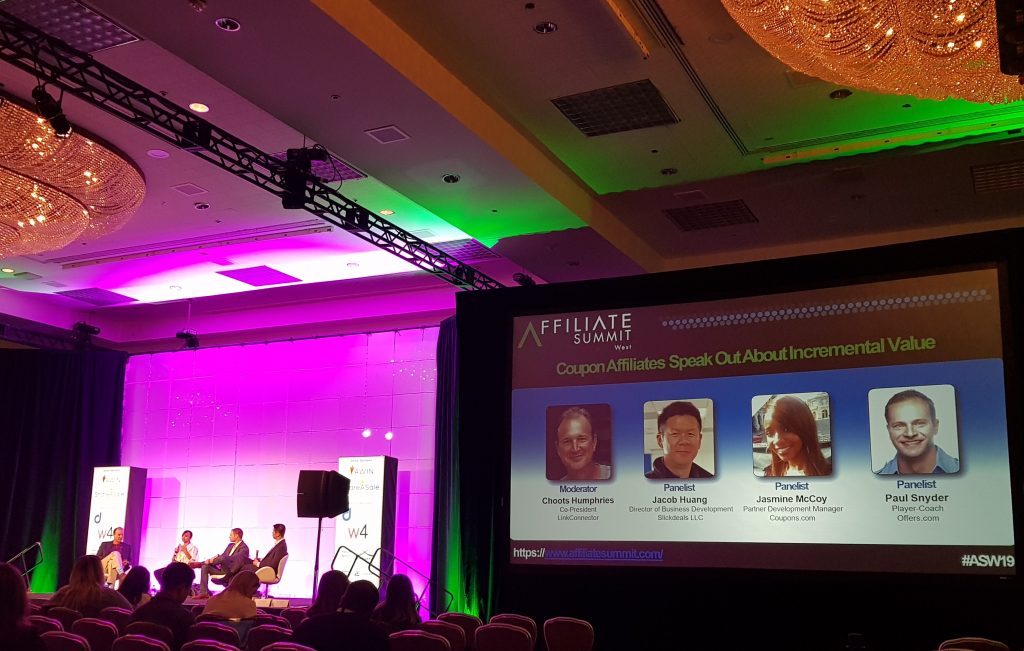 The conference in New York will
have a variety of networking events in a relaxed environment to encourage the
exchange of open ideas and experiences as well as access to online tools to
arrange meetings with other attendees and speakers before, during and after the
event.
Who will attend:
Affiliates (bloggers, comparison sites, coupon, content etc)
Advertisers (retail to travel, technology to finance)
Agencies and solution providers
Affiliate networks
When asked how many attendees were present from the financial industry at Affilaite Summit West in Las Vegas, Alex Pratt (Managing Director, Clarion Events, Affiliate Summit) said the following:
"The financial industry is one of our biggest segments at Affiliate Summit with just over 30% of our attendees stating that they are involved in the sector, so literally 1 in 3 people you meet will be relevant."
FinCon
Where: Washington, DC
When: September 4th – 7th
Who Should Attend:
FinCon is one of the largest financial content conferences. The majority who attend are personal finance digital content creators but over the years the conference has grown with increasingly more financial institutions attending and participating in the sessions.  So if you are are a publisher or a financial institution wanting to meet and learn about financial topics on various topics related to creating better online financial content, promoting that content, and profiting from it, then this conference is worth attending.
Who will attend:
Digital content creators/influencers and brands in personal finance and investing.
Adiverse group of "money mediapreneurs".
Certified Financial Planners, Chartered Financial Analysts, and Certified Public Accountants who want to build or have an online presence.
Published authors with books on personal finance and investing.
Freelancers who write for multiple organizations, while maintaining their own online platform.
According to Jessica Bufkin, Event Director from FinCon, the conference is "expecting 2,500 [attendees] this year."
CardCon
Where: Washington, DC
When: September 8th – 9th
Who Should Attend:
CardCon is produced by
Jason Steele, one of the nation's leading credit card journalists and experts
and will be the third annual CardCon @ FinCon. It's a good conference for
publishers looking to forge relationships with financial institutions.  This is also a valuable conference for publishers
wanting to attend the panel discussions, presentations and networking events
related to credit cards and consumer credit.
According to CardCon Producer, Jason Steele,
"The credit card industry holds many opportunities for publishers to make revenue from their affiliate relationships, and CardCon has become a marketplace for these relationships to develop. The financial institutions also want to connect with their publishing partners and look for valuable new relationships to develop."
Who will attend:
Bloggers
Freelance writers
Banks
Affiliate Networks
In the past, high-level representatives
from banks like Barclays and PennFed shared information about upcoming cards
and benefits for example.
Though the full speaker line-up for CardCon 2019 hasn't been released yet, last year's keynote speaker was Clark Howard, a consumer advocate and personal finance expertWe hope that this list of 2019 conferences is a helpful guide in planning your schedule for this year.
The second half of 2019 will see some more
conferences that are also worth considering such as the CPFC (Canadian
Personal Finance Conference) in Toronto. Many don't yet have confirmed dates or
speakers for example so watch this space as we will post more conferences that
we think are worth considering in 2019.
---