While some word of mouth marketing is completely organic, you can also make a targeted effort to boost word of mouth and get more people talking about and promoting your brand
Word of mouth marketing has always been hailed by marketing experts as one of the most effective marketing strategies, way before the existence of social media and digital marketing in general. There's a simple reason for that: people trust other people more than they could ever trust a brand.
Think of it this way: are you more likely to try a product if a trusted friend recommended it to you, or if you can see dozens of positive reviews from regular people? Or are you more likely if you saw a few well-placed posts from a brand?
While some word of mouth marketing is completely organic (like a happy customer sharing their love for a new brand or product they discovered), you can also make a targeted effort to boost word of mouth and get more people talking about and promoting your brand.
In this blog post, I'm going to show you how to promote your business more effectively with word of mouth marketing.
What exactly is word of mouth marketing and why should you care?
Quite simply, word of mouth marketing is all about getting people to talk about your brand, such as a happy customer promoting your products or services to their friends and/or family.
The reason it's so important to use word of mouth marketing and get more people talking about your brand isn't that you'll reach more people and spread brand awareness, but because a great recommendation from a friend or family turns a simple target audience member into a (very) hot lead. It fosters trust amongst your audience and shows that you actually deliver what you're promising – and maybe even a little extra.
Likewise, a great review from one of your actual clients or customers will demonstrate the same: that you're selling a great product or service. In fact, one survey found that 88% of people trust online reviews just as much as they would trust a recommendation from a friend or family member.
In other words, word of mouth marketing will help you grow your sales and, consequently, your revenue, without you having to spend anything extra on ads.
Plus, it's an amazing long-term strategy, as it will help you build a community of loyal and engaged customers, who will continue to support you and spread the word about your business.
As I mentioned before, you can get these results organically by ensuring customers are happy – but if you want to get even more people talking positively about your brand, you can always use various tactics to achieve that.
Here are some of the best word of mouth marketing tactics that you can start implementing right now:
Make sure you're delivering an amazing user experience
If you want to get people talking about your brand in a positive way and recommending your product or service to their friends and connections then you first need to deliver an amazing user experience for your customers.
When people had a highly positive experience and preferably, got even more out of it than they initially expected, they are more likely to talk positively about your brand.
The other reason they would talk about your brand is if the experience was horrible or not what they expected – but in a negative way. That said, it's safe to assume that most brands won't want to get people talking about a negative experience.
As for an average experience, one that doesn't stand out in any way… well, most people won't find much reason to talk about that at all.
In other words, before you start implementing word of mouth marketing tactics, take the time to evaluate the customer experience and find ways to improve it. From the moment people get on your website and start browsing until after the purchase, the experience should be optimized.
For example, you'll need to look into:
Your website's navigation: How easy is it for visitors to navigate your website and find what they need?
Ordering products/making books or appointments: Make the ordering or booking process as swift as possible and offer numerous payment options.
Shipping and delivery: Offer multiple shipping options, allow for package-tracking and ensure a quick delivery.
Help along the way: Make sure it's always easy for visitors and customers to reach you and ask you any questions.
Create a referral program
One of the best ways to speed up word of mouth marketing is by putting together a referral program. In other words, you're rewarding people who are talking about your brand and sharing it with their networks. For example, you can give them store credit every time they successfully refer a new client.
Some of the top millennial companies right now use this tactic quite successfully. One example that many readers are likely to be familiar with is Uber.
As you might have noticed on the Uber app – or the Uber Eats app – you can get extra credit to use on future rides (or food orders, respectively). All you have to do to get that free credit is generate your unique code and share it with friends, family, or even acquaintances that might be interested.
If they use the code and sign up for the service, you both get extra credit, so everyone wins – you and your friend save a bit of money and Uber wins more customers for its business.
In order to create a referral program, you can use a tool like Invite Box or ReferralCandy to set it up.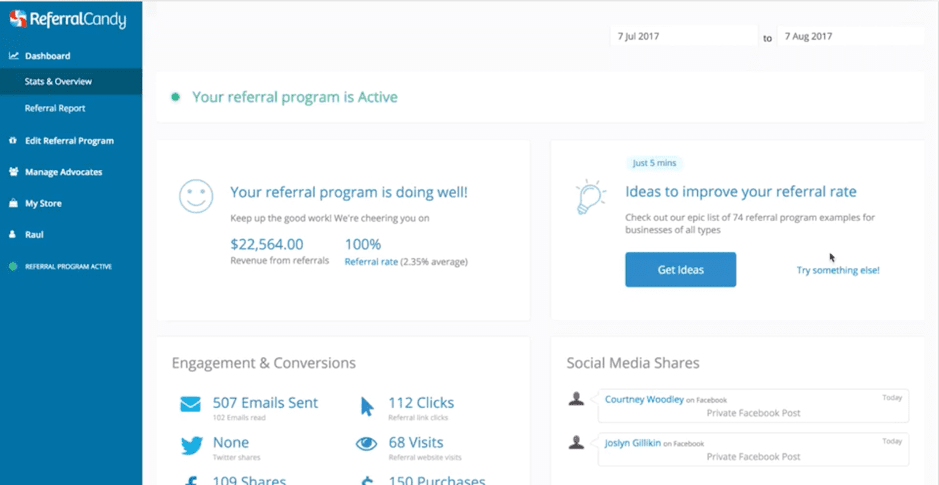 Use brand ambassadors to help promote your business
The term "brand ambassador" can mean a lot of things. On one hand, it can be a celebrity you've paid to promote your products in public settings, either in real life or online. Although I would say that's more influencer marketing than word of mouth marketing.
But on the other hand, a brand ambassador can also be a regular person – a fan of your products, a micro-influencer with a small but targeted audience, a customer who has consistently helped promote your brand online.
Some brand ambassadors will appear organically – fans of your products or services who will regularly promote your business, your content and your products/services online and in real life.
Commissions Autopilot
But you can also take things into your own hands and put together a brand ambassador program. One company that does this exceptionally well is Lululemon. The popular sports clothing brand has rapidly grown in popularity thanks to their huge network of over 1,500 brand ambassadors.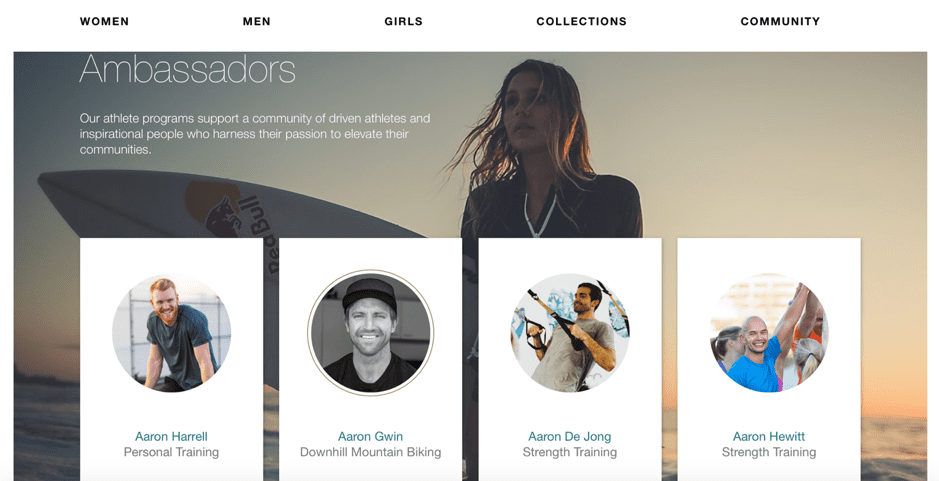 Each ambassador in their list has their own page: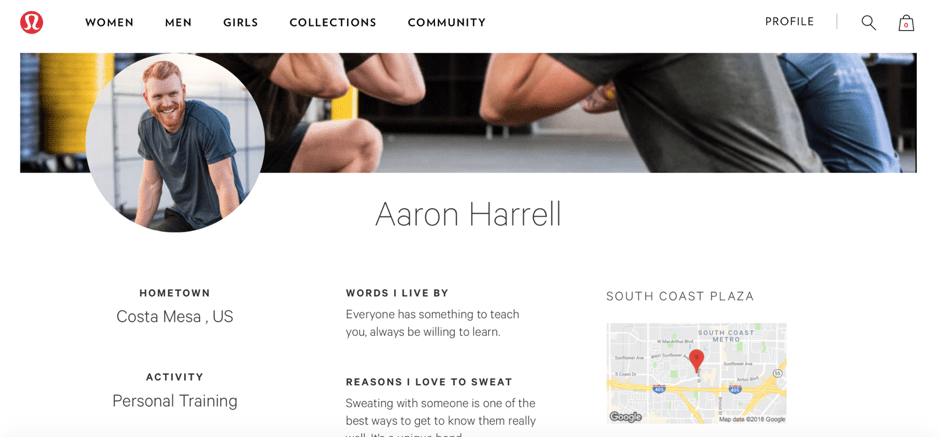 Aaron, for example, is a personal trainer, meaning he works every day with Lululemon's target audience. He can wear their products to promote them in a natural way and he can even recommend better sportswear to his clients. So, even if he's not a celebrity with countless followers or some well-known name in the world of sports, he still has great influence and impact considering he is constantly in contact with Lululemon's target audience.
As for how to begin your own brand ambassador program, start by looking at your own client base and social media fans: who is most passionate about your products or services? Which social media users are consistently promoting your brand or sharing content with your products or services?
You can even look at your own employees – the employees who you know are genuinely passionate about your brand and might be interested in further helping you promote it, beyond their jobs.
The idea is to find people that not only are passionate about your brand but who also have an influence, however small, on your target audience.
Then, it's all about giving these people a reason to help support and promote your brand; you need to offer them some perks, as well as constantly rewarding them for their best efforts.
For example, you could give them exclusive access to new products or get them involved in the creative process whenever you're testing out a new product or service.
Or, you could even gather up your ambassadors and send them on a fun trip – which is also a great opportunity for some amazing social media posts and blog posts.
Once you start a brand ambassador program, make sure to be in constant contact with your ambassadors in order to keep them happy and engaged. Continue to reward them and offer them perks, help them spread the word of your brand by giving them the materials they'd need and measure their results to see how you can improve your strategies, together.
Encourage user-generated content
One of the best ways to build up word of mouth marketing on social media is through user-generated content (UGC). In fact, UGC is, in essence, word of mouth – only a modernized version where instead of phoning up a friend and telling them about this new product you've tried, you're sharing images of yourself using that product online.
That said, there are numerous ways that you can use UGC to spread the word of your brand.
The concept is simple, although a bit more difficult to put into action. You come up with a UGC campaign (i.e. a reason why people should share images or videos of themselves with your products/services), an easy-to-use hashtag and a reason why people should share.
One example comes from Aerie, a clothing brand that has achieved great success on Instagram. One of the biggest reasons for this success was their UGC campaign #AerieREAL.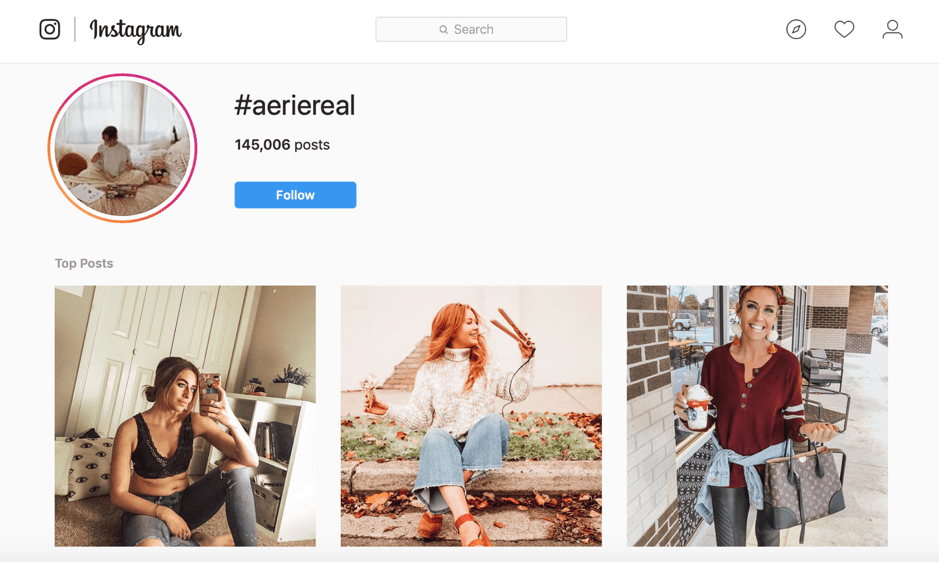 The campaign calls on Aerie customers to take pictures of themselves wearing Aerie products, without retouching the photo at all – for every picture posted, Aerie then donates $1 to a charity.
Aerie managed to find a real issue in today's world – the excessive use of editing that leads to seemingly unattainable beauty standards in today's society – and turned it into a positive exercise. Their fans will not only be proud to support such a cause and be a part of this body image revolution but in the process, they're also helping promote the brand.
Conclusion
The Internet and social media give brands the tools they need to implement better and more effective word of mouth marketing strategies – you just have to seize these opportunities.
Because if you do, you will not only reach a wider audience and spread awareness of your brand, but you will also boost your sales and find more long-term customers for your business.